THE LAMP OF DELTA ZETA RECOGNIZED WITH INDUSTRY AWARD
(Oxford, OH) Delta Zeta's magazine, The LAMP, was recently honored with an award presented at the 97th Fraternity Communications Association (FCA) Awards Program. FCA is a professional association composed of more than 50 fraternities and sororities, affiliates and associate partners. The program was streamed live on FCA's Facebook Page on Tuesday, May 19, 2020.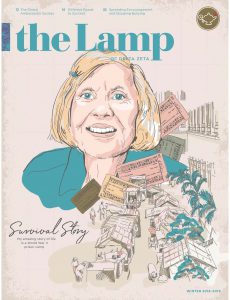 The LAMP received the first-place award for Magazine Design, Single Page layout for the Winter 2018-2019 Cover, Survival Story. It featured alumna Mary Lou Cleland Hedrick, Alpha Chi-California/Los Angeles, and her story of survival in a World War II prison camp. With few photos from the period to work with, and no opportunity to schedule a photo shoot, the illustrator captured the essence of Mary Lou's story in a beautifully designed cover of the issue which featured her article.
Since 1910, The LAMP of Delta Zeta has been sharing members' stories. More than 135,000 members and friends receive the print magazine three times a year. For more information on The LAMP, or to read previous issues online, please visit http://www.deltazeta.org/about-us/the-lamp-of-delta-zeta/.
Delta Zeta Sorority is a global women's organization whose shared values support a vision to truly inspire action and impact lives through leadership, service and philanthropy. Founded on Miami University's campus in Oxford, Ohio in 1902, the Sorority has more than 275,000 alumnae and collegiate members in the United States and Canada. The Delta Zeta Foundation, a non-profit organization, makes possible gifts and support for scholarships, leadership, philanthropy and education. Learn more about our mission at deltazeta.org. For more information about the Delta Zeta Foundation, visit deltazeta.org/give-graciously.
For further information, please contact Cindy Menges, Executive Director, Delta Zeta Sorority National Headquarters, 202 East Church Street, Oxford, OH 45056, (513) 523-7597 or press@deltazeta.org.