GIVING GRACIOUSLY IN EL SALVADOR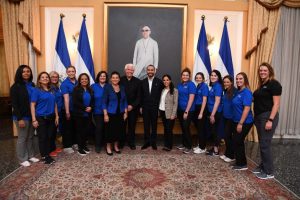 (Oxford, OH) Delta Zeta joined our philanthropic partner, the Starkey Hearing Foundation, in El Salvador this past October to help fit more than 1,100 patients with hearing aids. Our members had the opportunity to see firsthand the difference Delta Zeta makes each day because of our commitment to giving graciously.
Diane Stecher, Past National President, Iota Xi – Missouri/St.Louis, led the team. "Throughout my years as a Delta Zeta, I have been very fortunate to experience seeing our membership evolve, grow and advance better hearing around the world. In El Salvador, our members worked alongside the people of the community, as well as people from eight different countries, to provide better hearing which will impact countless lives. I am most proud that Delta Zeta is developing caring members, who have chosen to make an impact in the world," said Diane.
Joining her were: Madison Copeland, Delta Phi – Northeastern State (OK), Alli Wendel, Pi Theta – Rollins (FL), Rachael Cartee, Theta Zeta – Akron (OH), Catherine O'Neill, Xi Omicron – Loyola Marymount (CA), Mary Waterman, Director of Member Engagement, Gamma Omicron – San Diego State (CA), Abbie Rees, Director of Community Relations and Philanthropy, and Katherine Kalbitz, Iota Alpha – Texas State, who is now a full-time Starkey employee.
Throughout the mission, the team worked with the Starkey Hearing Foundation staff and volunteers to change lives. They had the opportunity to serve alongside the President and First Lady of El Salvador. In addition, the team had the opportunity to visit the Presidential House and Secretary of State during their stay. This experience was not only life changing for the people of El Salvador but also to the Delta Zeta team that attended.
"We truly are philanthropic crusaders, and our mark is being made all over the world. I am so thankful that I have been able to experience this mission with some of my sorority sisters from all over. The connections that we formed on the mission show how we are not only global leaders but also global givers," said Madison Copeland.
"Being able to see the pure joy in an individual's face when they hear clearly for the first time is indescribable. I will never forget the love and sense of community I experienced in El Salvador," said Catherine O'Neill.
Delta Zeta Sorority is a premier global network of inspired women who share a vision to truly change the world through leadership, service and philanthropy. Founded on Miami University's campus in Oxford, Ohio in 1902, the Sorority has more than 266,000 members worldwide and 170 chapters on college campuses throughout the United States and Canada. The Delta Zeta Foundation, a non-profit organization, makes possible gifts and support for scholarships, leadership, philanthropy and education. Learn more about our mission at deltazeta.org.
For further information, please contact Cindy Menges, Executive Director, Delta Zeta Sorority, 202 East Church Street, Oxford, Ohio 45056, (513) 523-7597, press@deltazeta.org.