Delta Zeta Supports Single-Sex Organization Status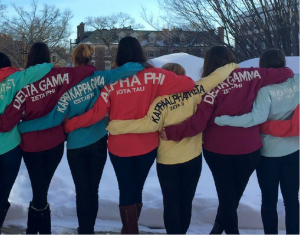 Since 1902, Delta Zeta has been inspiring women. We know the experience members gain through Delta Zeta prepares them well for their futures. Sororities provide a strong foundation for women leaders and a space that allows them to support, encourage and advocate for each other. Sorority women also are reported to have higher graduation rates; gains in science, writing and thinking skills; increased emotional support; engagement in college; and higher levels of community service than their peers.
Yet, it has become increasingly common for universities to impose policies aimed at forcing single-sex organizations—like sororities—to become co-ed or other membership policies that would violate a student's right to freely associate with organizations of her choice. Most notably, in 2016, Harvard University imposed a rule that discouraged students from joining single-sex organizations. Before Harvard announced sanctions that punish students in single-sex social organizations—opportunities protected by Title IX and the First Amendment—one in four undergraduates belonged to sororities, fraternities or all-women's or all-men's final clubs.
Though Delta Zeta has not had a collegiate chapter at Harvard, this type of policy could set the precedent for other campuses across the country to violate our members' First Amendment right to freely associate. The impact such policies have had on women's organizations at Harvard has been devastating. Almost all of the all-women's sororities and final clubs at Harvard have either closed or had to renounce their status as women's groups and commit to admitting men. Policies, such as this erase, empowering women's organizations, like Delta Zeta, from campuses.
We stand in support of a group of sororities, fraternities and students who filed a pair of lawsuits this week challenging Harvard's sanctions policy that punishes students who join off-campus, single-sex social organizations. For more information on their efforts, please visit www.standuptoharvard.org.
Single-sex organizations, like Delta Zeta, create an irreplaceable community of support for students and are more important today than ever. We will continue to advocate on behalf of our right to freely associate as a women's only organization and preserve the Delta Zeta experience for our generations of members to come.