CREATING GLOBAL IMPACT IN HONDURAS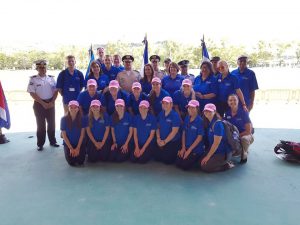 (Oxford, OH) Imagine living in silence and not hearing the wind through the trees or your children laughing. Over the course of three days in November, a team of Delta Zeta members joined the Starkey Hearing Foundation in Tegucigalpa, Honduras to help more than 1,200 people experience those beautiful sounds, many for the first time. From children to grandparents, the people of Honduras received the gift of hearing by being fitted for hearing aids from Starkey. Delta Zeta was one of the main sponsors of the mission in Honduras which made these moments possible.
"Speech and hearing have been a part of Delta Zeta since our earliest philanthropic efforts, from the 1920s forward," said Christy Phillips-Brown, National President. "Our partnership with Starkey Hearing Foundation takes our national philanthropy of speech and hearing to a global level by supporting Starkey's mission of bringing simple, sustainable and scalable solutions to provide hearing solutions worldwide. Thus fulfilling our Founders' vision of a global philanthropy that will change the world. We are proud to partner with Starkey to change hearing lives."
The Sorority's national philanthropic program, Heart for Hearing, provides a variety of ways in which the Sorority's chapters and members raise money for speech and hearing, supporting Delta Zeta's $5 million commitment over five years to the Starkey Hearing Foundation. This past spring, Delta Zeta chapters participated in the Heart for Hearing contest. For every $250 a collegiate member raised for the campaign, her name was entered into a drawing to volunteer at an international hearing mission with Starkey and Delta Zeta.
Delta Zeta Past National President, Diane M. Stecher, led the Delta Zeta team on the trip to Honduras on November 2-9. "In May, I was fortunate to have the opportunity to announce our Heart for Hearing Contest winners live on Facebook," said Diane. Joining on this mission were, Payton Chronister, Rho Chapter, University of Denver, Erica Dovin, Gamma Kappa Chapter, Kent State University, Leigh-Ann Heisey, Zeta Phi Chapter, Slippery Rock University, Bailey Uitz, Xi Upsilon Chapter, Northeastern University, and Teresa Vu, Theta Rho Chapter, California State University/Los Angeles. Also joining the Honduras team were Delta Zeta's Communications team, Allison St. Germain, Chief Information Officer, Abbie Rees, Director of Community Relations and Philanthropy, Kayla Ray, Communications Coordinator, and our Global Marketing interns, Bethany Hunt, Lambda Gamma Chapter, Jacksonville State University, Carly Franklin, Beta Gamma Chapter, University of Louisville, Kat Kalbitz, Iota Alpha Chapter, Texas State University, and Jordan Baratta, Beta Delta Chapter, University of South Carolina.
Over the course of the mission, the team worked with Starkey Foundation staff and volunteers to change lives. Heart for Hearing contest winner Leigh-Ann said, "Every patient I interacted with had such a strong impact on me this past week. I never realized how much of an impact I would be making on them, and some of the stories that patients told me were just so heartwarming and overwhelming that it was hard to keep back the tears."
Delta Zeta Sorority is a premier global network of inspired women who share a vision to truly change the world through leadership, service and philanthropy. Founded on Miami University's campus in Oxford, Ohio in 1902, the Sorority has more than 266,000 members worldwide and 170 chapters on college campuses throughout the United States and Canada. The Delta Zeta Foundation, a non-profit organization, makes possible gifts and support for scholarships, leadership, philanthropy and education. Learn more about our mission at deltazeta.org.
For further information, please contact Cindy Menges, Executive Director, Delta Zeta Sorority,
202 East Church Street, Oxford, Ohio 45056, (513) 523-7597, press@deltazeta.org.