Norma Minch Andrisek, Past National President, Passes Away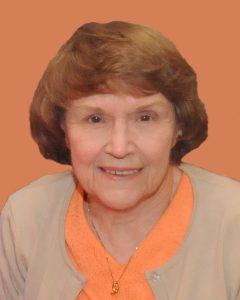 It was with very great sadness that the National Council learned that a most beloved member of the Delta Zeta Official Family passed away on May 24, 2017 – Norma Minch Andrisek, Baldwin Wallace – ΓA, Past National President. A truly remarkable leader, her legacy in Delta Zeta Sorority will live on for generations to come.
"Whatever can be done through exchange, compromise and faith that best serves the interest of Delta Zeta is what we will do," Mrs. Andrisek said. She dearly loved and honored our Sorority, and her leadership was quite extraordinary.
From President of the Gamma Alpha Chapter at Baldwin-Wallace College to National President, Norma Minch Andrisek led Delta Zeta through challenging times that tested all in the Greek world.
Her vision created the first leadership conferences in the fraternal world in 1980. At the 1983 National Convention, National Council announced that the conferences would be named the Norma Minch Andrisek Leadership Conference. "From the beginning," Mrs. Andrisek said, "these were to be 'leadership conferences,' not 'officer training conferences.'" At the time, these were truly innovative initiatives for any sorority to undertake. Today, the Norma Minch Andrisek Leadership Conference is the premier leadership event for Delta Zeta's collegiate leaders, and an essential element of Delta Zeta's commitment to leadership and lifelong learning.
Her foresight was responsible for ground-breaking initiatives that moved Delta Zeta to a position of distinction among sororities. Mrs. Andrisek served Delta Zeta as National President three times: from 1977-1981 and again from 1987-1989.
She served numerous national positions in Delta Zeta Sorority, including Director of Pledge and Collegiate Education, Vice President of Collegiate Affairs, Vice President of Membership, Alternate Panhellenic Delegate, Director of Extension and as the President of the Delta Zeta National Housing Corporation.
Mrs. Andrisek was the Centennial Steering Committee Chairman for Delta Zeta's Centennial Convention in 2002, leading a successful Centennial celebration on Miami University's campus, the home of Delta Zeta Sorority's founding, with record attendance.
She served as the Delta Zeta Foundation Vice President – Museum and was key in overseeing the National Historical Museum renovations in 2012 which included updating furnishings and creating the Women of Achievement and Women of the Year Rooms in line with our donors' vision, as well as displays depicting Delta Zeta's early history at Miami University and the story of its first National Presidents and their administrations.
At the 2012 National Convention in San Antonio, Texas, Mrs. Andrisek was honored with The Order of the Laurel (you can view the lovely video done as a tribute to Mrs. Andrisek when she received this recognition here), which recognizes sorority service of exceptional merit covering a period of many years. The award is given by National Council only in special circumstances. Of those women who have followed our Founders, some are willing to be so much more, to be very much like our Founders. Norma Minch Andrisek was one of those rare women.
Only four other women in Delta Zeta's history have received this honor: Irene Caroline Boughton, Iowa – I, National President – 1936-1938; Grace Mason Lundy, Indiana – E, National President – 1940-1946; Elizabeth Coulter Stephenson, Miami (OH) – A, National President – 1912-1916; and Myrtle Graeter Hinkly, DePauw – Δ, National President – 1928-1934.
Michelle Albrecht Smith, California/Los Angeles – AΧ, Past National President, bestowed the honor upon Mrs. Andrisek. "Norma Andrisek epitomizes all that is Delta Zeta," she said at the time. "She is a visionary and creative leader who has and continues to give of herself to make Delta Zeta the best she can be. Delta Zeta would not be the sorority it is today if it were not for Mrs. Andrisek's innovative leadership. I am honored to present this award to her on behalf of National Council."
Mrs. Andrisek responded, "I am very honored to receive this recognition and all that it represents. It is a privilege to work with Delta Zeta and to share Delta Zeta with so many individuals who are in our Delta Zeta or are associated with Delta Zeta in some way. My appreciation and gratitude to the National Council for the recognition that they are bestowing on me. I am so fortunate to have worked with and loved all of these wonderful Delta Zetas. It has been so rewarding, and I take great pride in what we have done together. That is my reward. And I thank you all."
Norma Minch Andrisek's efforts have truly been "worthy of the highest aim and purpose of associated effort." We will always remember her with love in our hearts. Our love and sympathy go to her family during this difficult time.