Truly Connected Washington D.C. Panelists and Speakers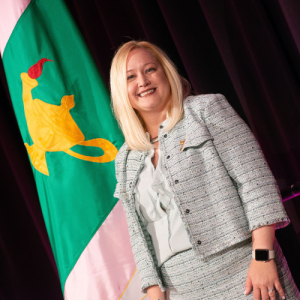 Christy Phillips-Brown
Christy Phillips-Brown is the Vice President of Communications for Retail Business Services, a world-class services company supporting great local brands and their strategies. Prior to her role in Retail Business Services, Christy served as the director of External Communications and Community Relations for Food Lion, one of the nation's largest grocers.  In this role, she was responsible for developing and implementing proactive media relations programs, creating community relations that inspire customer loyalty and protecting the company's reputation through effective issues management. In 2009, Phillips-Brown served as senior vice president and chief media strategist at Wachovia Corporation.  She joined Wachovia's communications department as a vice president in 1999, and oversaw strategic external and internal communications for various business units, as well as led crisis communications and reputation management efforts for the company. Prior to joining Wachovia, she held positions of increasing responsibility in the communications department at Duke Engineering & Services.
Christy's passion for Delta Zeta shows in her years of service as a volunteer. Currently, she serves as the National President for Delta Zeta. Prior to her role as National President, she has held multiple Delta Zeta volunteer roles including CCD for the Lambda Sigma and Kappa Phi Chapters, Regional Collegiate Coordinator for Region XIV, and Vice President of Collegians just to name a few.
Christy is an accredited member (APR) of the Public Relations Society of America (PRSA) and serves as Past President of PRSA Charlotte's Board of Directors and Charlotte chapter.  In 2013, she was named to The Charlotte Business Journal's 40 under 40 business leaders in the Charlotte community, and in 2006 was named by PR News as one of the top 15 professionals in the industry to watch.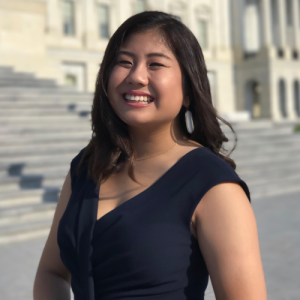 Rebecca Tjahja 
Rebecca is currently the Deputy Data Director in Iowa for a Democratic presidential campaign, where she works to organize, strategize, and report voter contact in a fully integrated way. Before joining the campaign, she was a second-year associate at Hamilton Place Strategies (HPS), where she works with clients on strategic communications and policy objectives related to finance, technology, and energy. Prior to HPS, Rebecca was a Google Public Policy Fellow working with the Congressional Internet Caucus on issues including national security and privacy. The highlight of her collegiate career was working for the National Economic Council at the White House during the Obama Administration, where her portfolio included the digital economy and Internet governance. Rebecca has also worked with AT&T Big Data and the Financial Services Roundtable. A California native, Rebecca graduated as a Eugene McDermott Scholar from the University of Texas at Dallas where she studied finance and political science. Rebecca was a founding member of her Delta Zeta chapter and went on to serve as Vice President of Philanthropy and a student lobbyist on Capitol Hill on behalf of sororities and fraternities nationwide.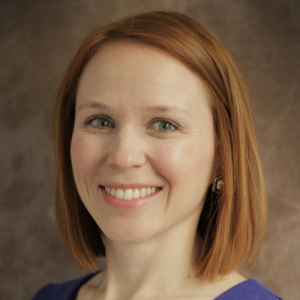 Mary Schaper 
Mary Schaper is a communications strategist with a decade of experience executing high-impact digital communications and advocacy initiatives. Mary puts her experience to work at the American Petroleum Institute developing integrated, data-driven strategies aimed at driving engagement, growing audiences, and building communities. In her current role, she manages a team that supports social, email and direct marketing efforts, content and creative development and strategic initiatives. Mary lives in Alexandria, Virginia with her husband Nick, two children and one very energetic English Springer Spaniel.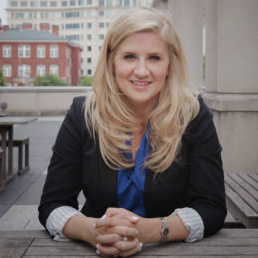 Katie Barlow 
Katie is a former journalist and current lawyer at a large international law firm in Washington, DC. As a journalist, she has covered Capitol Hill with WTOP, including Justice Elena Kagan's confirmation hearing, as well as the Supreme Court with NPR's Nina Totenberg. As a lawyer, her practice includes civil litigation and white-collar defense with a focus on the Anti-Terrorism Act. She received dual degrees in political science and broadcast journalism from the University of Georgia and a J.D. from Georgetown Law. Katie is a longtime lover of Washington, DC. If she is not solo traveling around the globe, you can often find her running down the mall with her 90-pound black standard poodle, Beau.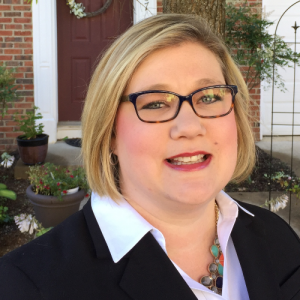 Christi Mayer 
Christi Mayer is a Policy Advisor at Apollo Global Management LP, one of the nation's largest private equity firms. In that capacity, Christi serves as principle advisor to former Indiana Governor and U.S. Senator Evan Bayh. Christi is an experienced senior consultant with a demonstrated track record working in government administration, managing key projects for three United States Senators (Voinovich, Klobuchar, and Gillibrand).  She also served in the Executive front office of the White House Office of National Drug Control Policy coordinating the schedule of the "Drug Czar" General Barry McCaffrey, USA (Ret.$
Christi is a longtime volunteer for Delta Zeta, having served as a Regional Coordinate Coordinator, a two-time National Chairman (New Member Education and Government Relations) and as a member of National Council. 
Christi has her B.S. from Shepherd University and her M.A. in National Security and Strategic Studies from the U.S. Naval War College.  She lives in Lorton, Virginia with her husband, Charlie, and her son, Clark.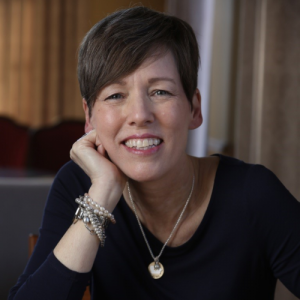 Lee Ann De Reus 
Lee Ann De Reus, PhD, is executive director of the Domestic Violence Legal Empowerment and Appeals Project (DV LEAP), a non-profit in Washington, D.C. DV LEAP provides access to justice and safety for survivors of domestic violence across the US by overturning unjust trial court outcomes through pro bono legal appeals.
 
An ardent advocate for women's and human rights, Dr. De Reus has dedicated her career to leading change for vulnerable populations in the US and Africa. She is an internationally-recognized expert on gender, sexualized violence, women's rights, and activism with over 100 speaking engagements at venues such as TEDxPSU, the Oslo Freedom Forum, and the UN Commission on the Status of Women. 
Dr. De Reus is chair of the board of directors and co-founder – with 2018 Nobel Peace Prize Laureate Dr. Denis Mukwege – of Panzi Foundation USA, a non-profit that assists survivors of gender-based violence at Panzi Hospital in the Democratic Republic of Congo.
 
Prior to DV LEAP, Dr. De Reus was an associate professor of Human Development and Family Studies/Women's, Gender, and Sexuality Studies for twenty years at Penn State Altoona where she conducted research on sexualized violence and stigma at Panzi Hospital and led field experiences for students in the Dominican Republic, Rwanda, Chad, Tanzania, and Mozambique.