35 Under 35 Nomination Information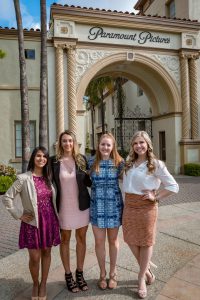 The National Council is pleased to announce Delta Zeta's new 35 Under 35 recognition program. The 35 Under 35 program recognizes outstanding young professionals who have achieved success, by making a significant impact in their industry, before the age of 35. Candidates for this recognition are women who have demonstrated leadership, initiative and dedication to their careers, are motivated by challenges, serve as volunteers in their communities and are role models for their peers. This program recognizes the individuals' achievements, ambition and influence.
Criteria:
Nominee must be 35 years old or younger by March 31, 2019.
Nominee must be a Delta Zeta alumna in good standing.
Nominee must have distinguished herself in her career field or in another demonstrable way which causes her to stand separate from her peers.
Each winner will be selected from a field of nominees by a panel of independent judges made up of selected Delta Zeta volunteers.
Individuals will not be honored more than once. However, individuals can be nominated more than once.
Self-nomination is allowed.
Qualifications:
Commitment to Delta Zeta values. The actions of each recipient should tie back to the values of the Sorority, especially leadership and/or service.
Distinguished Achievement. The alumna has distinguished herself in her career field or another demonstrable way which causes her to stand apart from her peers.
Alumna in good standing. The alumna is 35 years old or younger, and is in good standing with the national organization and her chapter.
Nominations are now being accepted and will be open until April 30, 2019 at 11:59 p.m. Eastern. To nominate a sister, please click here.
We are very excited for this new initiative and look forward to learning more about the success of our members around the world!