Heart for Hearing Contest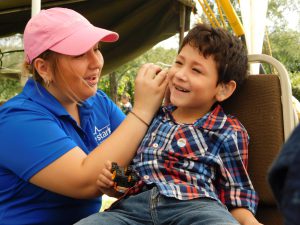 We are thrilled to announce that our 2020 Heart for Hearing Contest is now open to both collegiate and alumnae members. This contest will give our members an opportunity to have a hands-on experience with our National Philanthropy Partner, the Starkey Hearing Foundation. So far, 51 collegiate and alumnae members have attended International Hearing Missions in 11 countries around the world with the Starkey Hearing Foundation. Through our 2020 Heart for Hearing Contest we will award this amazing opportunity to even more of our members.
Please review the details below for how to participate.
Create a personal

Heart

for

Hearing

page – click here to learn how to create your page.
Raise a minimum of $250 through your

Heart

for

Hearing

page.
Complete the International Mission Agreement

for

m – click here

for

link.
The money must be raised through your Heart for Hearing page between July 1, 2019 and May 1, 2020. Collegiate and alumnae members will be entered into the contest drawing once for every $250 raised. As an example, if a member raises $750, they will have three opportunities in the drawing. To get your name in the drawing (after the money is raised), you must submit the International Mission Agreement form by no later than 12:00 a.m. EST on May 1, 2020.
Additionally, if a member raises $5,000 via their Heart for Hearing page, she will automatically be given the opportunity to participate in an International Hearing Mission with the Starkey Hearing Foundation.
On Heart for Hearing Day, which is on Tuesday, May 5, six names will be drawn. Along with the drawing, we will announce the women who raised $5,000 and will also be attending a mission. Delta Zeta will work with the winners' schedules and the Starkey Hearing Foundation mission calendar to get both the members chosen and those that raised $5,000 on a mission as soon as possible. We will announce this year's mission dates and locations in the next few months.
Additional Details:
Only Delta Zeta members in good standing are eligible

for

this

contest

.
Delta Zeta will not provide passports or cover the cost of any immunizations

for

this international travel opportunity.
Money raised on

Heart

for

Hearing

pages prior to July 1, 2019 are not eligible

for

inclusion in the

contest

requirements.
Flights, hotels and group meals will be covered for the winners attending the mission. Contest details can be found here and on the app in the Resources section under 2020 Heart for Hearing Contest. Please direct any questions regarding the contest to Abbie Rees, Director of Community Relations and Philanthropy, at arees@deltazeta.org.
Thank you for your participation in this exciting fundraising opportunity!
"Alone we can't do much. Together we can change the world."
William F. Austin
Founder of the Starkey Hearing Foundation