Alumnae Heart for Hearing Contest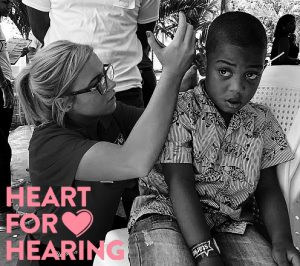 We have exciting news! We are extending the Alumnae Heart for Hearing Contest. We have two winners so far, and we have space for two more!
We would like to thank all of you that have started your efforts to raise funds, and we would like to encourage the rest of you to join in this holiday season to help change lives! The new contest deadline is March 31, 2019 or when two more alumnae achieve the fundraising level of $1,500, whichever happens first.
The next two alumnae to raise $1,500 on their Heart for Hearing page will automatically have the opportunity to go on an international mission trip with the Starkey Hearing Foundation in the Summer or Fall of 2019.
This mission trip opportunity will allow you to see the difference your fundraising has made while providing you with a hands-on experience alongside your sisters. It will be truly life changing!
Please review the details below for how to participate in this exciting opportunity.
1. Create a personal Heart for Hearing page. Click here to learn how to create your page.
2. Raise a minimum of $1,500 through your Heart for Hearing page.
3. Complete the International Mission Agreement form. Click here for link.
Flights, hotels and group meals will be covered for the four winners attending the mission. Please direct any questions regarding the contest to Abbie Rees, Director of Community Relations and Philanthropy, at arees@deltazeta.org.
Disclosure:
Only Delta Zeta alumnae in good standing are eligible for this contest.
You are not able to send another alumna (or anyone else) as a substitute attendee.
Delta Zeta will not provide you with a passport or cover the cost of any immunizations for this international travel opportunity.
Money raised via an alumna's Heart for Hearing page prior to September 4, 2018 is not eligible for inclusion in the contest requirements.
Donations from Company Matching Gifts can count toward your total dollars raised for the contest. You must note the amount that was matched on the online International Mission Agreement Form.