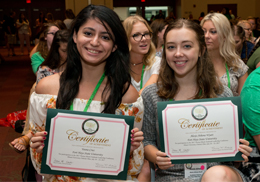 The 2017 Norma Minch Andrisek Leadership Conference
The 2017 Norma Minch Andrisek Leadership Conference gave more than 400 women the opportunity to learn, lead and live our rich history at the historic site of Delta Zeta Sorority's founding at Miami University in Oxford, Ohio.
As a donor to the Delta Zeta Foundation, you helped to make this possible. The Norma Minch Andrisek Leadership Conference is a step toward lifelong learning for the collegiate leaders in Delta Zeta Sorority. They discover that maintaining the desire to learn throughout their lives is the way to build leadership skills, to stay open to different perspectives and to keep growing as women and global citizens who contribute to the world community.
These young women are excited to be a part of this conference. One student shared, "As someone who has attended every conference Delta Zeta has to offer, I found this to be the most influential and in-depth! I think I learned more at this specific conference than at any other event, and I'm really thankful for the opportunity! I look forward to bringing information back to my chapter and bringing out [my] sisters' potential as Norma did for so many sisters around the Nation!"
The conference's learning objectives followed the tenets of Delta Zeta's Strategic Plan: Grow (defining and applying "Authentic Leadership"); Enhance (applying a leadership profile to their own leadership journey); Improve (increasing understanding of mindfulness and wellness activities); and Advance (establishing personal leadership and chapter development plans).
Participants explored the ability to think in more complex and strategic ways – a skill that is much needed on college campuses and in our world.
Facilitators also challenged participants to be sure their chapters are places in which all members are encouraged and empowered to lead at different times and in different ways.
Delta Zeta is guiding members in their own development. They are preparing themselves to lead in a rapidly-changing world by thinking in new and different ways as they interact with their sisters, co-workers and other members of their potential network in a meaningful way to make a difference in the world.
A special tribute was given to Norma Minch Andrisek, for whom the conference is named. A Past National President who served an unprecedented three terms and a member of the Order of the Laurel, Delta Zeta's highest honor for service of exceptional merit, Mrs. Andrisek founded the conference in 1980, and was adamant that "these were to be 'leadership conferences,' not 'officer training conferences.'"  Mrs. Andrisek's quiet but powerful leadership style was explored during the conference as a lesson from which the collegians could learn.
National President Diane M. Stecher reminded the conference attendees, "You live truly in your life, bringing integrity and responsibility to everything that you do. This is how our Founders lived and built the foundation for Delta Zeta Sorority. Our women, informed by shared values and strengthened by shared experiences, know the power they have to bring about meaningful change in the world. They believe in themselves and are empowered by the values of Delta Zeta."