SISTERHOOD AND SUPPORT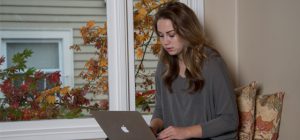 This fall, more than 4,700 new members received critical information to help them make safe and healthy choices through GreekLifeEdu, an online program that addresses important issues of alcohol awareness, sexual assault and hazing.
Thanks to donors like you, the Delta Zeta Foundation is able to make this program available to every new member of every Delta Zeta chapter. GreekLifeEdu has become an integral part of the new member process and continues to provide insight to our leadership on how to best keep our members safe.
Leveraging the latest research and trends, GreekLifeEdu delivers this important information in a format that connects with college students at their level and through different learning styles.
One student shared her eye-opening experience through this program, which is sponsored by the Delta Zeta Foundation. "This course gave me great insight into the dangers of alcohol abuse and how it has played a part in my life, although I never realized it before," she said.
In the most recent impact report, we learned that after completing this course, Delta Zeta members felt more prepared to promote positive behavioral choices regarding alcohol, hazing and sexual assault.