Building connections at the 2018 Presidents Academy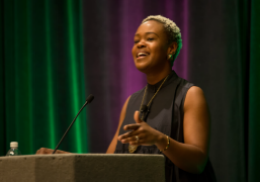 "To the world, I promise temperance, insight and courage…" rang out as more than 270 unison Delta Zeta voices kicked off our 2018 Presidents Academy. Not only did the Presidents Academy provide leadership training, but also an opportunity for attendees to network with hundreds of Delta Zetas and share similar values and experience similar challenges.
Just like our Creed says, "to those whom my life may touch in slight measure," Chapter Presidents shared in our Delta Zeta bond and created lasting friendships with women who were in the same position as them.
"The best resource I received attending is the other chapter presidents!" exclaimed Megan Stayton, Chapter President, Gamma Omega Chapter, Southern Illinois University. "Having the time to make connections and meet other chapters and women experiencing the same triumphs, even sometimes issues, has allowed me to know I have women just a phone call away. Seeing all the wonderful people I get to call sisters truly helps motivate me to continue pushing my chapter to succeed to then continue making our organization as great as it possibly can."
As a Delta Zeta Foundation donor, you helped Delta Zetas, just like Megan, begin their journey as Chapter Presidents with their newly elected counterparts.
College Chapter Directors (CCDs) also attend the weekend to learn and grow with their Chapter Presidents. Programming is designed for Chapter Presidents and CCDs to learn from the same position as well as learn together.
Elizabeth Yost, CCD for the Lambda Delta Chapter at the University of Virginia, enjoyed learning from the perspective of her Chapter President.
"Her presence helped me ground the college viewpoint," Elizabeth said. "On more than one occasion, she would give me the perspective that never once came up during a CCD breakout session. I think it serves as a reminder that while we all hold leadership positions, much of what we do will influence, and is for, collegians."
Megan emphasized the importance of the CCD and Chapter President relationship and what her CCD attending means to her and the women of Gamma Omega.
"The bond between CCD and President is one that is truly indescribable for me," she said. "Having this time with my CCD helps me realize how amazing of a woman she is for dedicating so much time and effort to our chapter. During our time together, she inspired me showing me what lifelong commitment to our members holds."
Throughout the weekend, Chapter Presidents and CCDs spent time learning best leadership practices for their chapters. Each chapter was responsible for developing a Chapter Action Plan, which will help guide them in leading Delta Zeta during their presidency.
"We, as an organization, help women become the greatest versions of themselves," said Megan. "Being at a conference with so many incredible women, to give you the tools to continue this legacy of excellence, is such an exhilarating experience!"
National President Diane M. Stecher encouraged participants to be Delta Zeta. "Each of us is Delta Zeta. We live truly …. We're all lifelong learners. You are global citizens who will write the future to truly make a difference in the world."
Kyla Ritter, Chapter President of the Xi Nu Chapter at Tarleton State University, said it best – how donor support impacted her time at Presidents Academy. "I have learned so much at the Presidents Academy," exclaimed Kyla. "Without donors, I would not be able to be here with Delta Zetas from all over the country learning how to better the women in our chapter. Engaging with these women has made me a better woman, and I thank you for your gracious heart for donating."