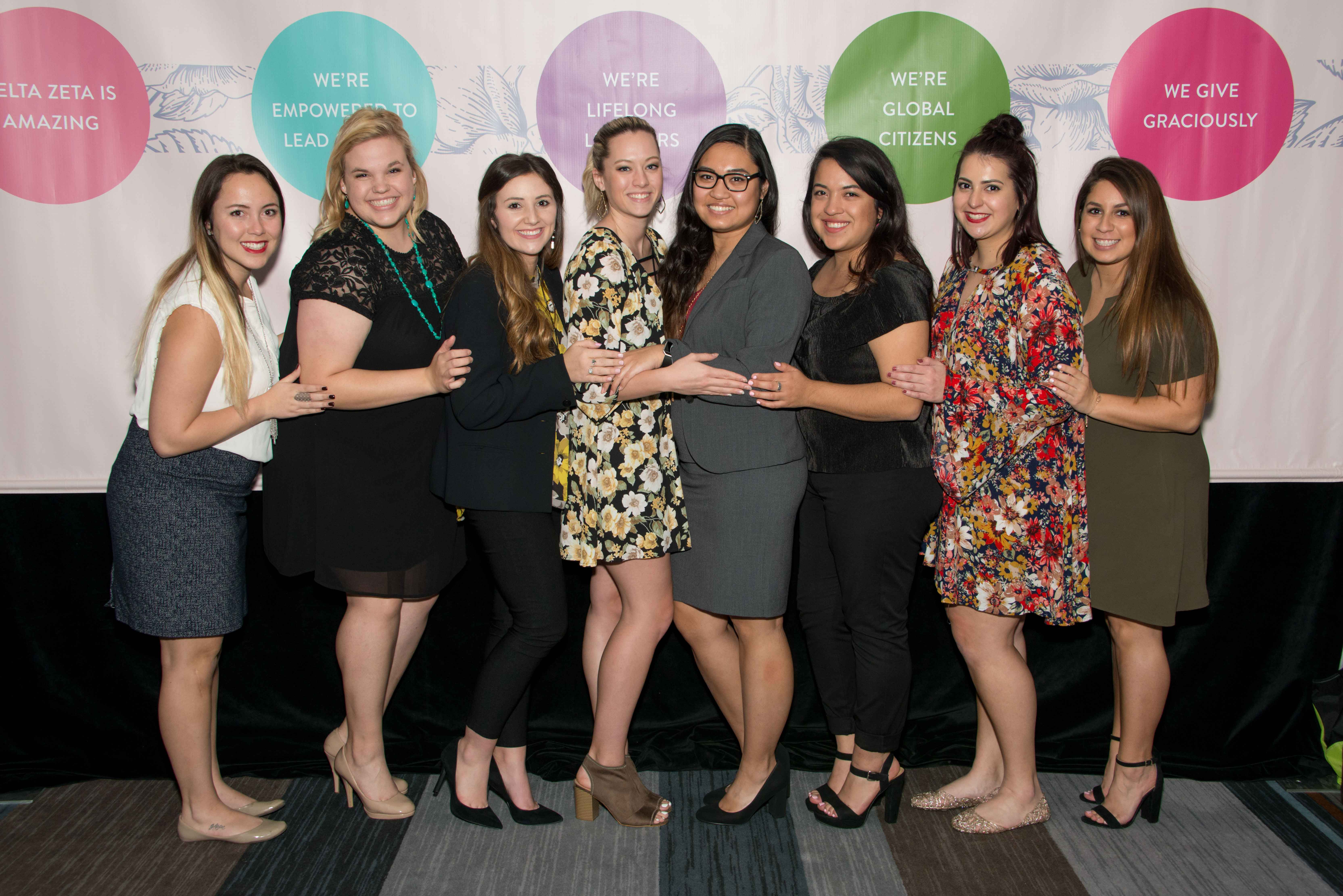 Presidents Academy Grows With Help from Donors
The excitement was palpable across the sea of pink and green as hundreds of Delta Zeta Chapter Presidents, Chapter College Directors (CCDs) and Regional Chapter Directors (RCDs) descended on Dallas in February for the 2017 Presidents Academy. Sisters came from around the nation, some battling winter storms and all ready to learn and grow. "I am excited for this weekend to help empower my Chapter President and help her grow in her role as president of a colony," shared Emily Blanchard, Pi Beta Chapter, University of Hartford, serving as the new CCD for Pi Omega Chapter at Johnson & Wales University.
"This weekend helps new Chapter Presidents get a better idea of how big Delta Zeta is nationally," said Kelly Wright Gonos, Gamma Kappa Chapter, Kent State University and the longtime CCD for the Gamma Kappa Chapter at Kent State University. "It helps them see our sisterhood goes beyond their chapter. Our presidents get support from other presidents they meet in sessions, and they get key leadership training from expert speakers and facilitators. It helps my Chapter President develop a plan to improve our chapter, and it reinforces my message as a CCD."
CCDs like Emily and Kelly work with their Chapter Presidents to develop goals for chapters and help develop their leadership strengths. For the first time, RCDs also joined the Presidents and CCDs for the weekend. "Having RCDs at the Academy helps ensure everyone in the chapter leadership chain has the same information," said Executive Director Cindy Menges, Alpha Chapter, Miami University. "RCDs can help support our student leaders and provide guidance as they work to guide sisters to success. Being able to bring RCDs, CCDs and Presidents together for this weekend is helping ensure a strong future for Delta Zeta. We are so thankful for the donors that help fund this program each year."
"As an RCD, being at the Presidents Academy helps me foster positive relationships with my mentors and mentees," said Region XII RCD Ani Rodriguez-Newbern, Alpha Sigma Chapter, Florida State University. "This weekend helps attendees see where our organization is heading and setting goals on how we can get there together."
RCDs, CCDs and Chapter Presidents spent time during the weekend long program building their relationships with one another, exploring personal values and learning how to motivate team members. Facilitators helped attendees work to develop their leadership skills through a variety of activities in both small and large groups.
"Presidents Academy helps reenergize me. It helps me cultivate relationships with other advisors, alumnae and collegians," said Region I RCD Kim Noah, Delta Delta Chapter, Georgia State University, a longtime Presidents Academy attendee. "I love this weekend because I leave feeling empowered by the tools facilitators give me to build an enriching environment."