Preserving Delta Zeta History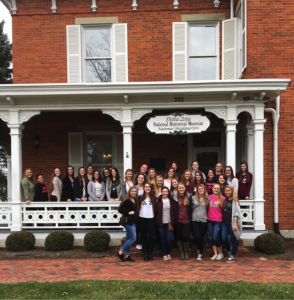 On October 24, 1902 a group of six visionary young women – Alfa Lloyd, Mary Collins, Anna Louise Keen, Julia Bishop, Mabelle Minton and Anne Simmons – met and signed the State of Ohio Articles of Incorporation that certified the status of Delta Zeta as a secret society.
Since that first day, Delta Zeta has seen many changes within the organization and on the college campus. In 1981, Delta Zeta Foundation, with the support of generous donors, purchased the Delta Zeta National Historical Museum to house our trove of archives and provide office space for the national staff.
The museum is maintained and continues to grow only through the generosity of our donors. Each year, there are over 1,000 visitors to the museum. These visitors have the opportunity to view memorabilia documenting the founding of Delta Zeta, photos of all past national conventions and Past National Presidents, the Women of Achievement Room and more.
Two very popular items in the museum are a pier mirror from Julia Bishop Coleman's family and the Presidents' Plaque. At the 1992 National Convention, Jean Coleman Lisle, Julia's daughter, demonstrated her mother's "twirl and check" routine as Julia would stand in front of her pier mirror to make sure her stocking lines were straight before she went on a date. This mirror is thus appropriately placed at the foot of the grand staircase in the museum.
The Presidents' Plaque, which is made from wood from the home of Past National President Evelyn Adams Costello's, Knox (IL) – Nu, is popular with visitors. The plaque honors the women who serve as the Delta Zeta National President. A replica of the plaque is sent to the collegiate chapter of the current National President. When the Museum was renovated and the 10,000 square foot addition was built in 1996, a window was removed and that space is now the home of the Presidents' Plaque.
Visitors can also tour the Centennial Garden and Circle, dedicated in 2002, which connects the Cooks Conference Center and Museum.  The Cooks Conference Center, named after Lucile Crowell Cooks, Miami (OH) – Alpha, 1973 Woman of the Year, is used for traveling staff temporary housing and archives storage. In the Centennial Garden and Circle, members and individuals can purchase memorial bricks.
To learn more about the National Historical Museum and to take the virtual tour, visit http://museum.deltazeta.org/Home.