Donors help fund lifelong learning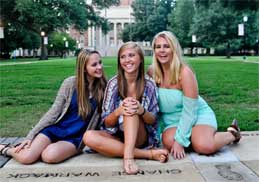 Through generous gifts from donors like you, Delta Zeta is able to make lifelong learning a priority – ensuring that our members become their best self, prioritizing new experiences, academics and developing life skills. All Delta Zeta chapters are currently participating in the Being More! member development program. Our Delta Zeta members want to become well-rounded individuals both inside and outside the Sorority, and Being More! ensures our members are having the best membership experience. Our members learn essential life skills through opportunities for growth and leadership development, inspired by programming developed to meet our members where they are. The programming is not cookie-cutter and is designed to involve and connect our members to resources and learning within Delta Zeta and create lifelong learning opportunities for our women beyond the collegiate years. The program is designed to develop Delta Zetas as an entire person, and that education in Delta Zeta does not stop at the end of the new member process, but that is just the beginning. Through participation in Being More!, members will learn:
Effective communication skills
Critical thinking
Life balance
Relationship building
Conflict resolution
Project confidence
Freshman, sophomores, juniors and seniors all receive different leadership and training skills in the Being More! program. Members participate in programming that matches where they are in life – if a woman is a new member as a sophomore, she participates in programming with women her age and not necessarily her new member class. For example, programming for freshmen may include how to empower members to resolve roommate conflicts since many of them may be living on their own and sharing space for the first time. For our older members, conflict resolution programming is more in line with what they might encounter in an internship or job setting – understanding group dynamics and addressing conflict when working with groups of people. This type of programming allows understanding and appreciation to those our members come in contact with. By supporting this program, we are investing in each and every Delta Zeta. We are creating a culture that will serve our members and our world. Being More! will empower Delta Zeta to become a premier women's organization.