Keeping Sisters Safe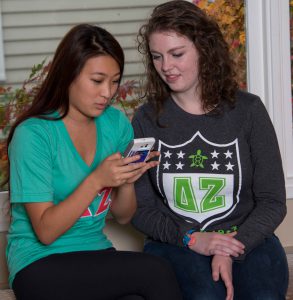 Delta Zeta is committed to keeping our sisters safe and educating our members on the critical issues they face on campus today. Unfortunately, this fall we saw just how well our risk prevention and management app, Clutch, works. A student at The Ohio State University rammed a car into pedestrians and then began slashing passersby with a knife. He injured 11 students, faculty and staff members and set off a panic on campus.
Needless to say, this was a scary time for everyone at OSU and for friends and family watching around the country. At the time, no one knew how many people had been attacked, if the attacker was still moving around campus, or where it was safe to take shelter.
Delta Zeta got to work immediately to ensure the safety of our 134 Theta Chapter sisters. Clutch has a feature which allows students to mark themselves "safe." Within minutes of the reporting of the attack, we were able to ascertain all Delta Zeta sisters were safe and in secure locations. Delta Zeta was the first student organization on campus to be able to account for our members and report them safe to authorities. We were also able to ensure that our members had current, accurate information on this frightening situation as it unfolded.
"Without Clutch, we couldn't have tracked our women to make sure they were safe," noted Theta College Chapter Director Hillary Stahl. "It was especially helpful for our women off campus, because they received a push notification and responded quickly. It made our job of ensuring the safety of sisters so much easier."
While we hope to never need to use this feature again, we are deeply grateful to alumnae who make gifts to fund these tools. Keeping sisters safe is one of the most important things we can do, and your gift helps with this by funding Clutch.