I've Been Everywhere…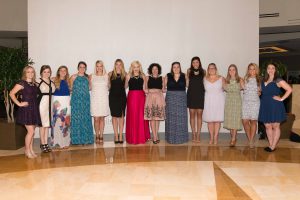 Delta Zeta Educational Leadership Consultants (ELCs) can identify with the Johnny Cash song "I've Been Everywhere." These recent college graduates, who travel the country helping educate, train and support Delta Zeta chapters and chapter leaders, visited 29 states this fall. They traveled thousands of miles to make 115 visits to chapters and colonies.
ELC Madison Norwich, Pi Beta – University of Hartford, shared, "My time as an ELC has let me meet all the different types of women who make Delta Zeta an amazing organization. As a collegian, one only knows her chapter or her region. In this role, I have met people from different backgrounds, campus types, chapter sizes and more. But it's amazing with all these differences, we all share the same values."
During all of these travels, ELCs provided thousands of sisters with educational programs right on their campuses. These programs helped sisters build confidence, develop tools to motivate their sisters and enhance their problem-solving skills. ELCs also helped establish new chapters, improve academic programs and enhance member retention.
"Being an ELC is great because I get to meet and know people from all over the country," said ELC Taylor Winter, Gamma Kappa – Kent State University. "I have met people with different traditions, cultures and personalities during my travels. I get to know their hopes, dreams and goals and hopefully play a small role in helping them achieve those dreams and goals."
Having an ELC visit a chapter isn't only a positive experience for a chapter and their leaders; it is also a great opportunity for ELCs themselves. During their time in this role, ELCs grow their communication, problem-solving and public speaking skills. They also become experienced business travelers and leaders while gaining valuable experience working as a team member.
"Being an ELC has helped me learn to collaborate with others and to problem solve in new ways," said ELC Taylor Cecil, Xi Beta – Eastern Kentucky University. "For most of the problems we see there are a number of ways to reach a solution. I have learned how to collaborate with others to arrive at a solution that works for the chapter. Those are skills I will use after my time as an ELC. I will use that in future work and in my everyday life when faced with tasks, projects and activities that involve others."
"Being an Educational Leadership Consultant has helped me build my confidence," said Dayna Wolfe, Kappa – University of Washington, a second-year ELC. "I have learned more about who I am and what I want to do with my life. I am a first generation college student and this experience has given me the confidence to pursue my masters degree. Being an ELC has inspired me to further my education."
The ELC program is partially funded by gifts from alumnae to the Delta Zeta Foundation. Those gifts, like yours, help send consultants to help grow Delta Zeta leaders all of the country and have been since the 1930s when the program began. With your support, thousands of sisters are empowered and growing their leadership skills from the comfort of their campus.