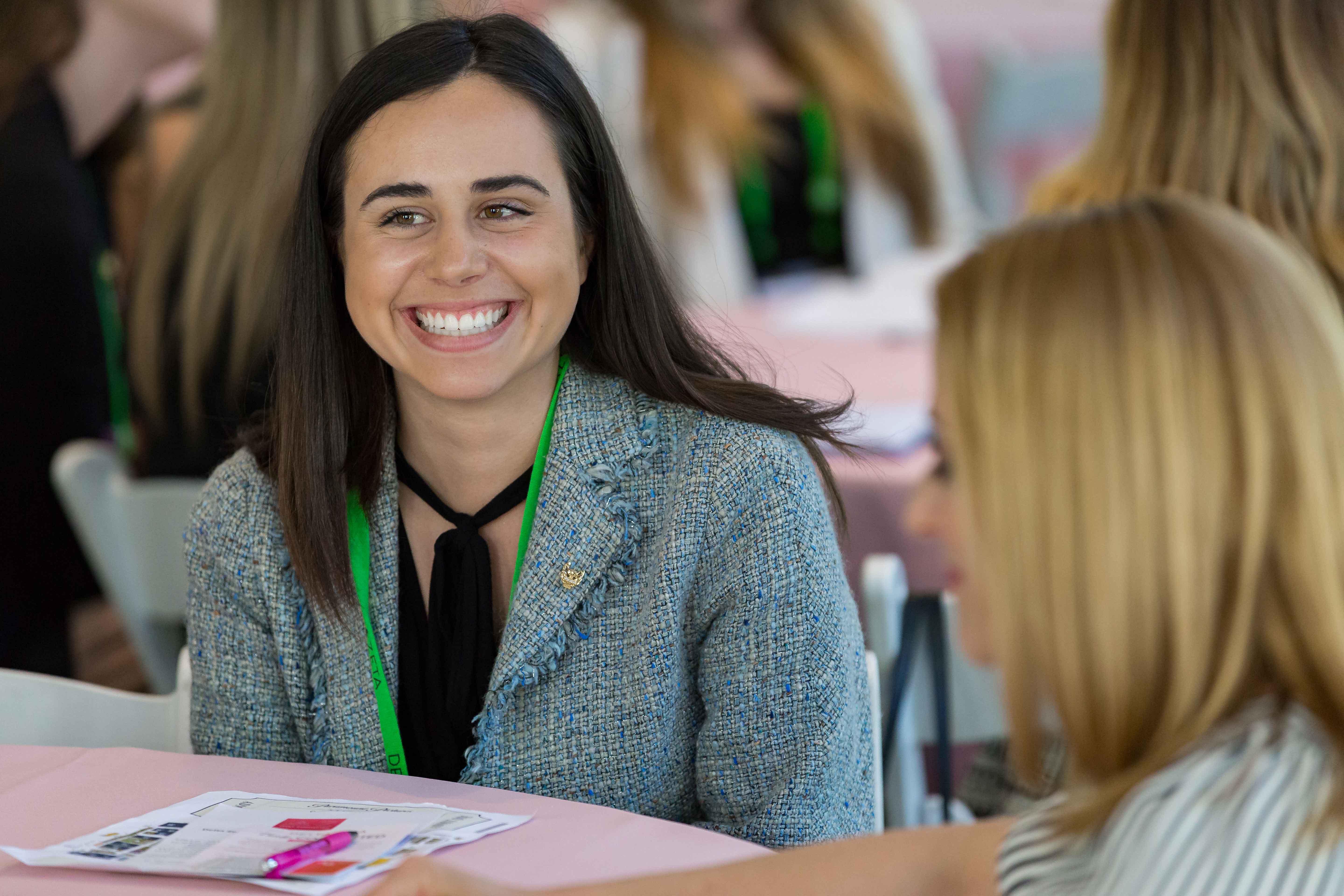 Donors help Fund a Professional Development Program
As Delta Zeta sisters from around the country gathered at Paramount Pictures Studios in Los Angeles for the first west coast Truly Connected professional development conference, it is unlikely that many knew the Delta Zeta and Paramount historical connections. On the very same lot where these young sisters were about to learn networking and interviewing skills, Delta Zeta's very own 1968 Woman of the Year Edith Head, Mu Chapter, University of California/Berkeley, had spent 44 years dressing stars like Grace Kelly and Audrey Hepburn.
But the connection didn't stop there. Paramount Studios cast Gail Patrick, Alpha Pi Chapter, Samford University — Delta Zeta's 1962 Woman of the Year and a generous Foundation donor — in roles opposite Cary Grant and Bing Crosby throughout the 1930s and 1940s. While none of the attendees at Truly Connected are Oscar winners like Gail and Edith (at least not yet!), there were some shining stars.
Cindy Elkins, Alpha Chi Chapter, University of California/Los Angeles, kicked off the day with her keynote address that challenged sisters to define what is important to them, network like crazy and ask for help to achieve their goals. Cindy, a technologist who has followed this same advice, is a former executive at Genentech and was the first woman appointed to the Board of Directors for Weight Watchers. Her passion to create vibrant and high performing cultures where people thrive and bring their best selves to work every day was clear in her address.
Following the keynote presentation, alumnae and collegiate sisters had the opportunity to participate in roundtable discussions focused on key issues such as building their personal brand, navigating LinkedIn and tips for a successful career change.
Attendees also heard from an alumnae panel consisting of keynote speaker Cindy Elkins; Alissa Zito, Xi Omicron Chapter, Loyola Marymount University, Vice President of Communications, Step Up; Niki McMahon, Gamma Lambda Chapter, San Jose State University, Global Publicity – Original Series, Netflix; and Barbara Poremba, Gamma Beta Chapter, University of Connecticut, Vice President National Retail Sales, The Coca-Cola Company. Panelists shared tips for developing relationships with mentors, developing a leadership voice in the workplace and juggling the balance between work and family.
Though the event only lasted one day, the impact of Truly Connected is much longer. Donors who have made this program possible are giving sisters an opportunity to build new connections, develop new skills and expand their networks. "I can't say enough how important this is," said Cindy Elkins. "We need to help find each other and help each other get to where we need to be to make the world a better place."