Donors Help Award Record Scholarship Dollars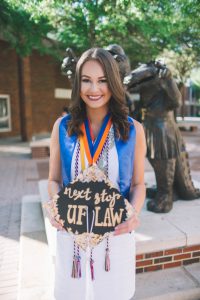 Delta Zeta donors helped the Foundation award 31 graduate scholarships and 41 undergraduate scholarships worth $232,000 for the upcoming academic year. This is more than has ever been awarded in Delta Zeta history. The scholarship winners represent 47 different chapters from around the US and Canada.
These scholarships will help sisters like Alyssa Backenstoe, Marshall (WV) – Delta Upsilon, who is pursuing her undergraduate degree in communication disorders and health science. Alyssa, who is planning a career as a Speech-Language Pathologist, is a member of the National Society of Collegiate Scholars, the National Society of Leadership and Success, is involved with campus ministry and has served as the Delta Upsilon academic chairman, chaplain and Vice President of Philanthropy.  "This scholarship will help me accomplish my academic and career goals. Delta Zeta has helped me find myself in college and discover abilities I never knew I had. I am so thankful for those who made this possible."
Graduate scholarship recipient, Destiny Goede, Florida – Pi Alpha, shared, "Thank you! This scholarship will help make it possible for me to pay for law school and follow my dreams. Your support is appreciated more than words can express." During her undergraduate career, Destiny served as a Student Advocate for the Fraternal Government Relations Coalition and meet with members of Congress. She also served as President of the Pi Alpha Chapter and attended the Norma Minch Andrisek Leadership Conference. "Delta Zeta provided me with hundreds of role models and women who changed my life. This organization shaped me into the woman I am today. Delta Zeta has molded my character, developed me into a leader, strengthened my values and given me lifelong friends."
Because donors like you gave to the Delta Zeta Foundation, these women are able to pursue their dreams. Your gift will help sisters become doctors, lawyers, engineers, teachers and so much more.