Founders Day Challenge – Thursday, October 24, 2019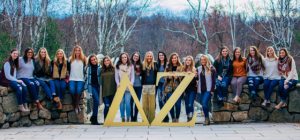 Delta Zeta is excited to announce Founders Day Challenge (formerly known as the Day of Giving) on October 24, 2019! Delta Zeta alumnae involvement is crucial to our success on this day – 24 hours of sisters and friends supporting Delta Zeta!
Interested in sponsoring a Challenge or Match gift? Email Alicia Favata, Director of Advancement at afavata@deltazeta.org.
Interested in serving as a 2019 Ambassador? Visit: dz.trulygiving.org to sign up!
And for all things Founders Day Challenge, visit our website: dz.trulygiving.org!