Delta Zeta Announces 2019 35 Under 35 Honorees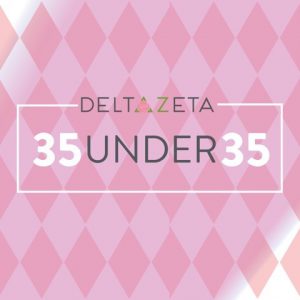 (Oxford, Ohio) Launched in 2018, Delta Zeta's 35 Under 35 recognition program highlights outstanding young professionals who have achieved success by making a significant impact in their industry before the age of 35. Candidates of this national recognition are members who have demonstrated leadership, initiative and dedication to their careers, are motivated by challenges, serve as volunteers in their communities and are role models for their peers.
The following members have been selected as this year's recipients of this recognition:
Danielle Abbey, Pi Theta Chapter, Rollins College
Public Relations, Embrace Families
Diana Rivkin Auer, Lambda Delta Chapter, University of Virginia
Attorney/Director of Youth and Family Ministry, Lutheran Church of the Resurrection
Madeline Burkhardt, Beta Xi Chapter, Auburn University
Adult Education Coordinator, Rosa Parks Museum
Constanza Cabello, Gamma Beta Chapter, University of Connecticut
Vice President for Diversity, Inclusion and Community Engagement, Framingham State University
Barbara Coty, Lambda Omicron Chapter, Angelo State University
R&D Craftsman at Tyson Innovation Lab, Tyson Foods
Courtney Donohoe, Gamma Kappa Chapter, Kent State University
Dean of Academic Outcomes, Lorain School District
Erin Donovan, Theta Theta Chapter, DePaul University
Information Security Analyst, TransUnion
Kristen Field, Gamma Nu Chapter, Eastern Illinois University
Public Service, Global Affairs and Community Engagement Professional, Strategic Partnership Consultant
Sarah Slocum Freeman, Sigma Chapter, Louisiana State University
Assistant Professor, Emory University, School of Medicine, Pediatrics Institute, Emory University
Leah Skovran Georges, Theta Eta Chapter, Creighton University
Assistant Professor, Creighton University
Kailyn Glassmacher, Omicron Sigma Chapter, Gallaudet University
Graphic Designer, Kailyn's Designs
Kayla Faudree Heimann, Theta Psi Chapter, Ashland University
Middle School Science and Social Studies Teacher, Lexington Local Schools
Stacy Iniguez, Theta Rho Chapter, California State University/Los Angeles
Graduate Veterinary Student
Kiara Kempski, Xi Lambda Chapter, University of San Francisco
Senior Director, Global Programming and Brand Media, Ancestry.com
Lindsay Mayet Lasseigne, Kappa Alpha Chapter, Nicholls State University
Neurological Surgeon, LSU Health Sciences Center School of Medicine
Ashley Lindley, Lambda Kappa Chapter, University of Alabama/Huntsville
Senior Radar Analyst, Northrop Grumman
Mary Beth Harrison Lochridge, Alpha Gamma Chapter, University of Alabama
Educator, Birmingham City Schools
Katie Mazurkiewicz, Theta Theta Chapter, DePaul University
Sr. Project Manager, Leonardo DRS – Daylight Solutions
Elizabeth Whetzel Metheny, Kappa Mu Chapter, Shepherd University
Assistant Professor of Cooperative Extension, West Virginia University
Amanda Osuna, Omicron Alpha Chapter, St. Mary's University
Manager, Talent Acquisition and Culture, Accruent
Lauren Morgan Patrick, Zeta Pi Chapter, University of Georgia
Editor and Founder, PrettySouthern.com
Elizabeth Butts Piper, Delta Theta Chapter, University of Houston
Owner and Chief Executive Officer, Sprinkle Pop, LLC
Jessilin Quint, Zeta Zeta Chapter, West Texas A&M University
Optometrist, Smart Eye Care
Jill Kawa Raderstorf, Theta Eta Chapter, Creighton University
Partner at Ohio Innovation Fund (Venture Capital)
Katie Ritter, Kappa Beta Chapter, Northern Kentucky University
Director of Curriculum and Technology Integration, Forward Edge
Carina Homann Santa Maria, Delta Beta Chapter, University of Tampa
Executive Director and Licensed Clinical Social Worker, Shelter, Inc.
Mary Leschper Schaper, Zeta Zeta Chapter, West Texas A&M University
Digital Communications Manager, American Petroleum Institute
Amanda Seidel, Xi Omega Chapter, Purdue University
Continuous Improvement Manager, Diageo
Sandi Smith, Pi Gamma Chapter, California State University/Northridge
Director of Production, Nickelodeon
Amy Leatherwood Tart, Omicron Xi Chapter, Mars Hill University
Teacher, Sampson County Schools
Kelly Cofiell Turner, Pi Beta Chapter, University of Hartford
Assistant Branch Manager, Senior Loan Officer, Norcom Mortgage Glastonbury
Sara R. van Koningsveld, Pi Zeta Chapter, Arizona State University
Dance/Movement Therapist, Psychotherapist, Wellness Educator
Rachel Vansell, Delta Phi Chapter, Northeastern State University
Events and Outreach Manager, Real Options for Women
Emma Woeste Walker, Kappa Beta Chapter, Northern Kentucky University
Associate Director of Alumni Engagement, Northern Kentucky University
Megan Calahan Wenzell, Delta Phi Chapter, Northeastern State University
Public Health Emergency Preparedness and Response Training and Exercise Coordinator, Tulsa Health Department
Watch for full coverage of these truly amazing members in the Winter issue of The LAMP magazine and on social media throughout the fall.
Delta Zeta Sorority is a premier global network of inspired women who share a vision to truly change the world through leadership, service and philanthropy. Founded on Miami University's campus in Oxford, Ohio in 1902, the Sorority has more than 266,000 alumnae and collegiate members in the United States and Canada. The Delta Zeta Foundation, a non-profit organization, makes possible gifts and support for scholarships, leadership, philanthropy and education. Learn more about our mission at deltazeta.org. For more information about the Delta Zeta Foundation, visit deltazeta.org/give-graciously.
For further information, please contact Cindy Menges, Executive Director, at press@deltazeta.org.
###