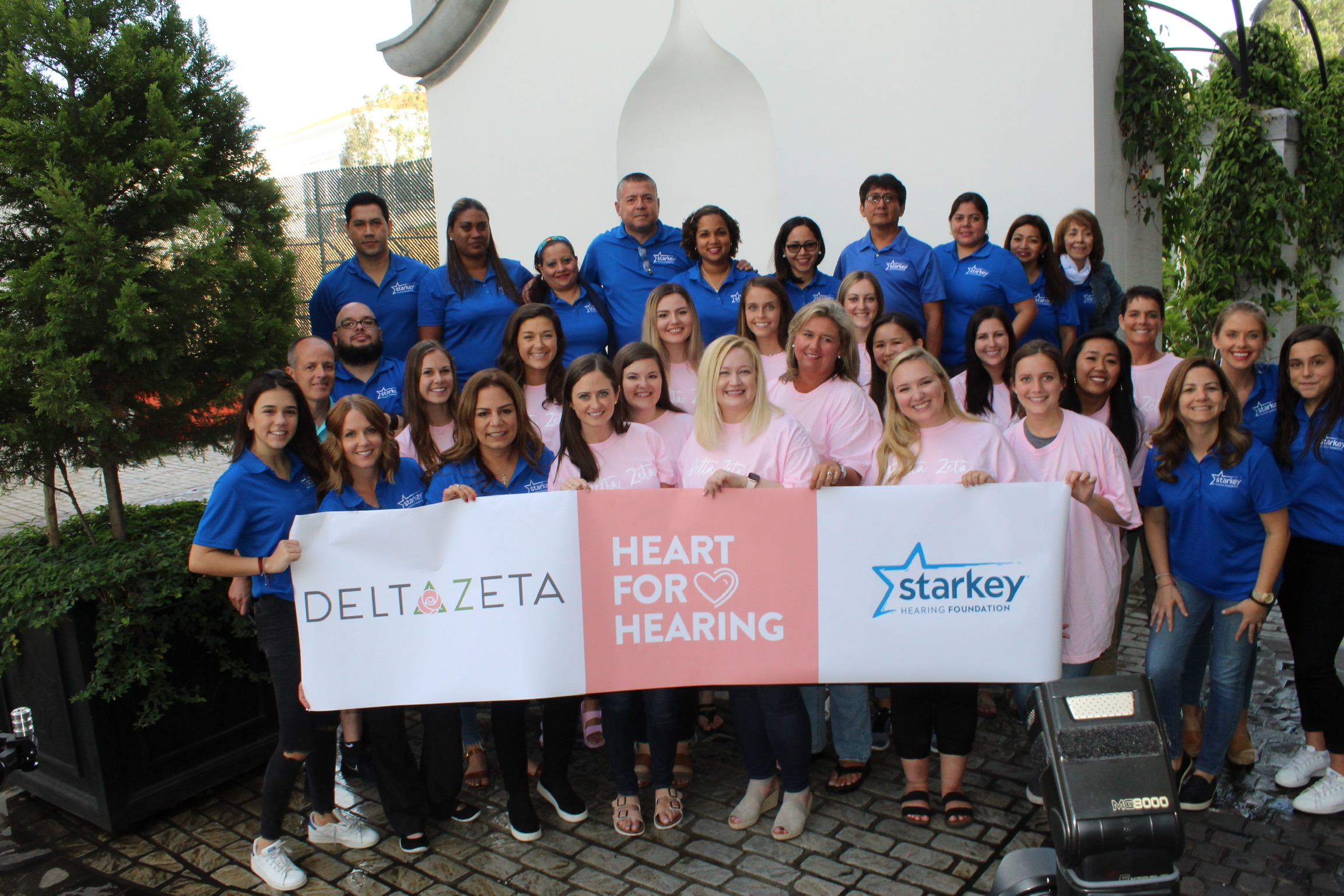 Creating Global Change in Guatemala
July 17, 2019
(Oxford, Ohio) Delta Zeta members are global citizens and are committed to making a difference not just in our local communities, but worldwide. On June 23-27, 2019, Delta Zeta sponsored and sent members to support the Starkey Hearing Foundation in Guatemala, fulfilling their mission to give the gift of hearing to more than 800 people. From children to grandparents, the people of Guatemala were fitted with Starkey hearing aids, allowing them to experience sounds, many for the first time.
"In Delta Zeta, we often say 'to those whom my life may touch in slight measure, may I give graciously of what is mine,' and that is exactly what 14 Delta Zeta members and staff  had an opportunity to experience in Guatemala," said Christy Phillips-Brown, National President of Delta Zeta. "To see the lives that will forever be changed, from the smiles and laughter, to the tears of joy shed as faces lit up at the first sound of their parents' voices, we saw our Creed come to life. We are so passionate about extending our heart for hearing around the world and are so grateful for the Starkey Hearing Foundation for all they do to serve so that the world may hear. Delta Zeta was honored to be a part of this mission and journey with Starkey."
Delta Zeta's national philanthropic program, Heart for Hearing, supports our $5 million commitment over five years to the Starkey Hearing Foundation. This past spring, Delta Zeta collegiate chapters participated in the fourth annual Heart for Hearing Contest. For every $250 a collegiate member raised for the campaign, her name was entered into a drawing to volunteer at an international hearing mission with Starkey and Delta Zeta. Those who raised $5,000 or more were automatically gifted with a spot on the Starkey Hearing Mission trip.
The Delta Zetas who joined Christy Phillips-Brown, Delta Zeta National President, in Guatemala on this mission were: Cathy Irvin Painter, Delta Zeta National Vice President of Collegians, Abby Barnes, Epsilon Theta – Clarion University (PA), Tyler Blatt, Gamma Psi – Central Michigan University, Kim Concillado, Theta – Ohio State University, Isabella Corcuera, Theta Rho – California State University/Los Angeles, Nicole Wedesky, Zeta Psi – Stephen F. Austin State (TX), and Lauren Lawless, Beta Kappa – Iowa State University. Also joining the Guatemala team were Abbie Rees, Director of Community Relations and Philanthropy, and Global Marketing and Philanthropy Interns: Miranda Domiano, Kappa Chi – Youngstown State University (OH), Olivia Kocsis, Delta Alpha – California State University/Long Beach, Macee Mygrant, Gamma Chi – Ball State University (IN), Sunnie Reagan, Lambda Kappa – University of Alabama/Huntsville, and Melanie Renaud, Omicron Nu – University of Windsor (Canada).
"Going to Guatemala to help give the gift of hearing was the best thing I've ever done. Watching the patients' eyes light up when the correct hearing aid was put on is something I will cherish forever," said Heart for Hearing contest winner, Nicole Wedesky.
Delta Zeta is looking forward to fulfilling our $5 million commitment to the Starkey Hearing Foundation with our fifth year of the Heart for Hearing philanthropic program. Both collegiate and alumnae members can look forward to next year's programming and contest, which will be filled with excitement that truly makes a difference globally and continues to allow members to win a hands-on opportunity to experience the impact our philanthropic efforts have worldwide.
Delta Zeta Sorority is a premier global network of inspired women who share a vision to truly change the world through leadership, service and philanthropy. Founded on Miami University's campus in Oxford, Ohio in 1902, the Sorority has 266,000 members worldwide and 170 chapters on college campuses throughout the United States and Canada. The Delta Zeta Foundation, a non-profit organization, makes possible gifts and support for scholarships, leadership, philanthropy and education. Learn more about our mission at deltazeta.org.
For further information, please contact Cindy Menges, Executive Director, at Press@deltazeta.org.