2018 Founders Day Proclamation: October 24, 2018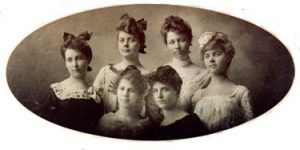 "Friendship and love are our common treasure. Our Sorority ideals serve ever to remind us we can help others in this game of life. We can take nothing out of this world that we do not give to it, gloriously and lavishly."
Founder Alfa Lloyd Hayes, National President, 1908-1912
It was not difficult for our Founders to embark on their sisterhood journey together. As some of the few female students at Miami University in Oxford, Ohio in 1902, they were all looking for shared connections to give meaning to their university experience. They found each other. They were friends and confidants. Since Alfa Lloyd, Mary Collins, Anna Keen, Julia Bishop, Mabelle Minton and Anne Simmons founded our beloved Sorority 116 years ago, more than 266,000 members have joined the journey toward friendship and love with our sisterhood. Strengthened by this love and friendship, it is our responsibility to give back in many different ways and continue the legacy left to us by our Founders.
Delta Zetas have continued to give back each day, year and decade. Women like Past National President Eveyln Adams Costello, Nu – Knox College (IL), who, in 1958, addressed the National Convention and challenged members to answer the call to leadership. She said, "The things we do today will determine what Delta Zeta's tomorrow will be." How exciting is it to know that the actions our members take help define our future?
The Delta Zeta of the future is being written today by each member. We believe each member of Delta Zeta is essential in making this journey of sisterhood into the future. This lifetime journey, started with just six friends, is truly amazing. And, there is always room for more to join us. Along the path of friendship, we meet or find others who share our spirit and purpose. Through our shared experiences, we grow stronger, and we are capable of changing lives. We, as Delta Zetas, are made for this journey. And we are truly on our way toward our future.
As all Delta Zeta members observe Founders Day, let us proudly wear our colors of rose and green in evidence of our dedication and faith in Delta Zeta.
Given under my hand and seal of the Sorority this 24th day of October in the year of our Lord two thousand and eighteen and of the Sorority, the one hundred and sixteenth.
Christy Phillips-Brown

National President