Ashley P. Anderson is National Vice President of Administration of Delta Zeta Sorority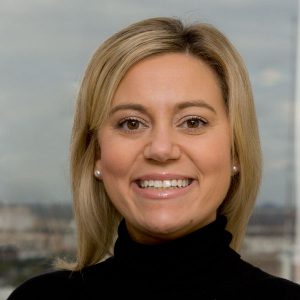 (Oxford, OH)  The National Council of Delta Zeta Sorority announces the appointment of Ashley Patton Anderson, Iota Alpha, Texas State University, to the position of National Vice President of Administration, effective immediately for the reminder of the 2016-2018 biennium.
In this role on National Council, Ashley will ensure the administrative responsibilities of the National Council and the records of the official meetings of the National Convention and National Council are maintained. Diane M. Stecher, Delta Zeta National President, said, "Ashley is an enthusiastic and experienced Sorority volunteer leader, and we are excited for her to join National Council. She is passionate about the Sorority experience and is truly an ambassador for Delta Zeta."
Ashley's sorority experience is extensive on the national level having served as National Recruitment Chairman and most recently as a Regional Collegiate Director for Ohio. She has served in multiple related roles as a Recruitment Membership Specialist, National Chapter Advisor and on the New Member Education Committee. Her employment as an Educational Leadership Consultant was instrumental in her work on the National Extension/Colonization team. Locally, Ashley has been a member of the Delta Zeta Houston Alumnae Chapter and held the Houston Alumnae Panhellenic Delegate position in 2013.
She served on the Texas State University Panhellenic Council and was honored as the 2001-2002 Texas State Greek Woman of the Year.
Professionally, Ashley works as an Executive Administrative Assistant at CRG LP in Houston, Texas. Ashley holds a Bachelor of Science degree in Family & Consumer Sciences from Texas State University, San Marcos, Texas.
Delta Zeta Sorority is a premier global network of inspired women who share a vision to truly change the world through leadership, service and philanthropy. Founded on Miami University's campus in Oxford, Ohio in 1902, the Sorority has more than 261,600 alumnae and collegiate members in the United States and Canada. The Delta Zeta Foundation, a non-profit organization, makes possible gifts and support for scholarships, leadership, philanthropy and education. Learn more about our mission at http://www.deltazeta.org. For more information about the Delta Zeta Foundation, visit http://www.deltazeta.org/give-graciously.
For further information, please contact Cindy Winslow Menges, Executive Director, Delta Zeta Sorority, 202 East Church Street, Oxford, Ohio 45056, (513) 523-7597, Press@dzshq.com.